So I mentioned on Monday that I purchased a new dining room table over the weekend:
Yesterday I went by World Market and picked up some chairs to match. (World Market is having a sale on their furniture right now and I had a 10% off coupon too...each chair came to $71!)
These chairs are made to have slipcovers but I didn't like any of the ones World Market had to offer so I'm going to go to the fabric store today in search of some fabric to create my own.
I would really like to do a chocolate brown/sea foam green/blue color scheme...similar to the colors seen in the rooms/photos below: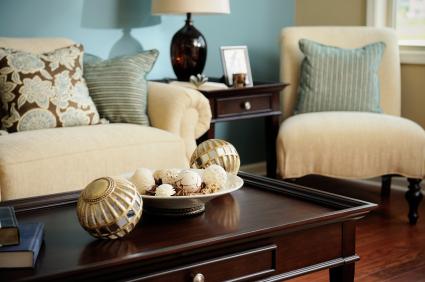 I'm planning on painting the walls a neutral taupe color and then covering the chairs in a blue color. I want to make new curtains as well and then finish the room off with some great accessories. I'd love to do something unique on one of the walls...any ideas? I'm going back and forth between:
1. Painting one wall a blue, like in the above photo (second color swatch in)
2. Wallpapering one wall (I had previously sworn off wallpaper but some of it is just so beautiful! Like this one...
I'm kind of leaning towards the wallpaper...but I might have to do when the Mr. is at work, or sleeping.
Thoughts?